just a few months ago, Prime Minister Imran Khan shared a recipe for a contented life on the social networking site Twitter
Whoever understands this golden statement of famed poet and philosopher Gib Khalil Gibran, he must understand that he fell in love with living a content life.
Writing the phrase on Twitter, Imran Khan pasted a quote from famous Bengali poet and writer Rabindranath Tagore with his tweet.
Then what happened to the critics sitting on social media and they took Khalil Gibran to Imran Khan to blame Tagore.
However, the Prime Minister may not take the criticism of him seriously, which is why he never made it clear from his Twitter account that it was his fault to hand over Tagore's words to Khalil Jibran.
On Sunday, the prime minister was given another opportunity to share a poem written by unknown poet Allama Iqbal on Twitter on social media.
The same mistake was made, which means that the picture of Khalil Gibran was posted with the verse of Alamo Iqbal's image tagged.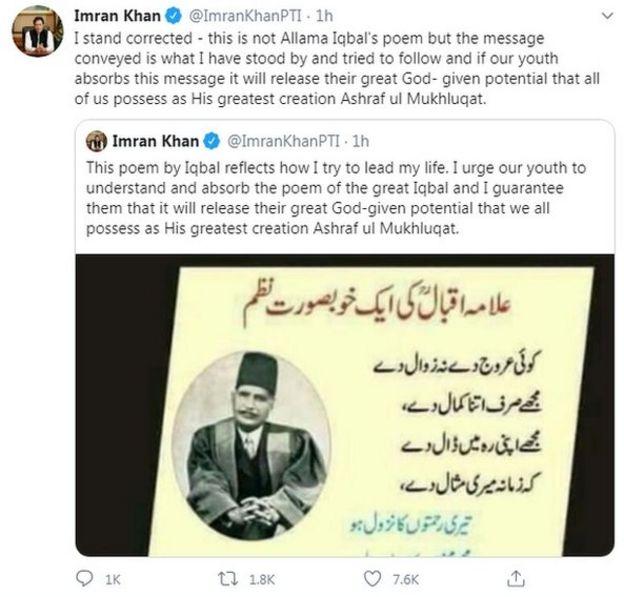 With this poem, "This poem reflects the style I am trying to create. I want young people to understand, adopt, and believe in this poem and believe that it brings the best of God.
This time, however, the difference was that the Prime Minister soon realized his mistake and tweeted, "Correct me." This is not a poem Allama Iqbal, but I am trying to follow the message given.
And 'Iqbal' has become a trend
It was too late for the Prime Minister's tweet that the 'Iqbal' trending on social networking site Twitter in Pakistan had begun.
Journalist Usher Rehman commented that 'Ike Baliyat' is not an admission, says Imran Khan.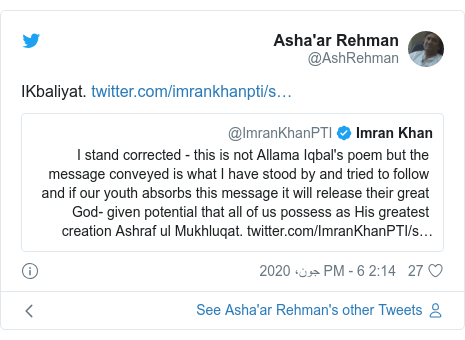 Former Pakistani ambassador to the United States, Hussein Haqqani, wrote: "This poem is not from Iqbal and is not found in any of the Iqbal books. There is not even an employee who knows the work of the poet.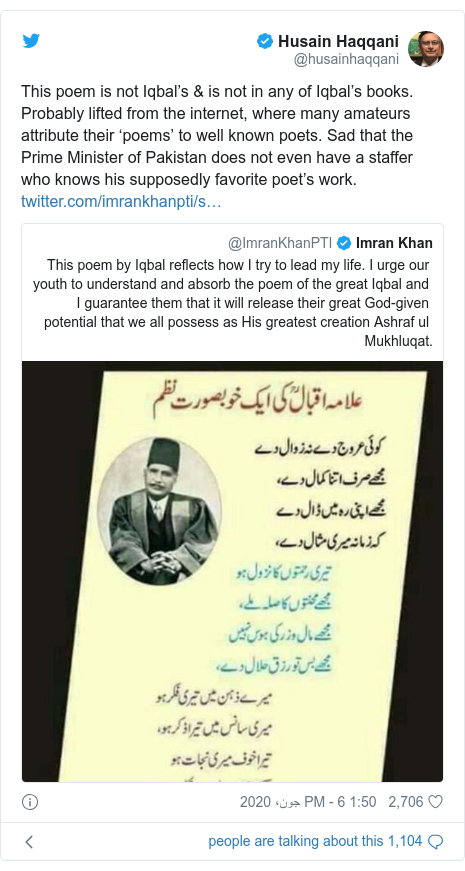 Twitter user Adnan Haider shared a picture of Iqbal's many compositions and wrote, "Dear Prime Minister, I have a full collection of Iqbal lyrics. The poem you quoted is not his." Please correct it. Thank you. '
The poem, written by Muhammad Iqbal in disguise, was addressed by the Prime Minister, Dr. Most likely, the poem was sent to him (Imran Khan) by a colleague WhatsApp. A fickle colleague to watch the Prime Minister. Don't make the Prime Minister's office a mockery.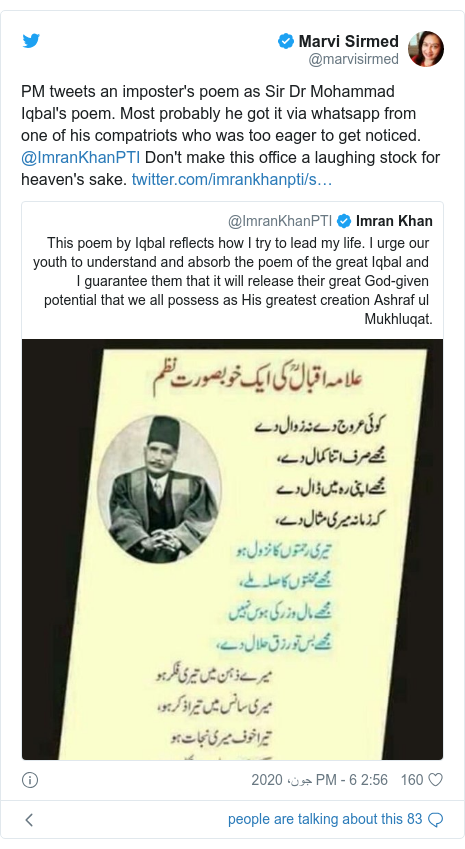 Journalist Syeda Ayesha Naaz said the poem was written by Allama Iqbal and not by Asad Marouf.
Journalist Talat Aslam wrote, "It may not be Iqbal, but who are we to question who wants to live his life according to a poem written on the back of trucks?"